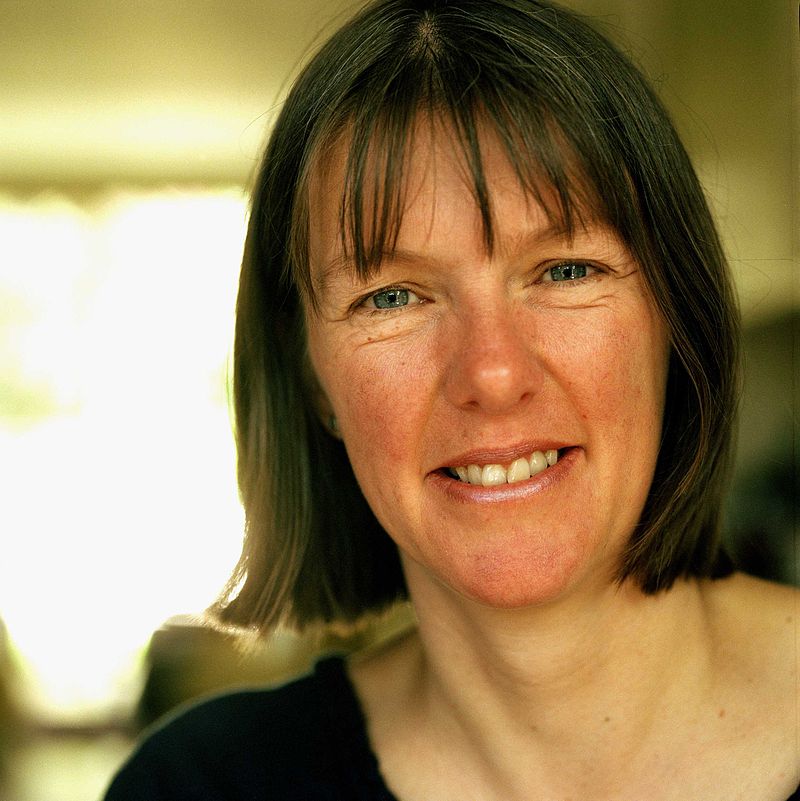 Kathleen Jamie, Scotland, 1962, is a poet, essayist and travel writer, one of the leading figures in her generation of distinguished Scottish poets that also includes Don Paterson, Robert Crawford, John Burnside, Roddy Lumsden and Jackie Kay.
Her writing is rooted in Scottish landscape and culture, and ranges through travel, women's issues, archaeology and visual art. She writes in English and occasionally in Scots.
Jamie uses Scots in her poetry, and does not limit it to poems that are 'Scottish' in theme. She remarked in an interview with Lilias Fraser 'it seems to come with a little political baggage attached. A Tartan suitcase!… you use it… because it can do a job that standard English can't do, reach parts that language cannot reach' (Scottish Studies Review, Spring 2001).
Her very rich production of books includes The Queen of Sheba (1994); her 2004 collection The Tree House (2004) reveals an increasing interest in the natural world and won the Forward Poetry Prize and the Scottish Book of the Year Award; The Overhaul (2012) which was shortlisted for the 2012 TS Eliot Prize and won the Costa Award for Poetry, The Bonniest Companie (2015) which is the outcome of her task of writing one poem per week.
She also writes non-fiction: a travel book about Northern Pakistan, The Golden Peak (1993), was updated and reissued as Among Muslims: Meetings at the Frontiers of Pakistan, in 2002. Findings (2005) is a collection of essays and observations on her native Scotland. Sightlines (2012), essays based on a second set of journeys, was published. These books are considered influential works of nature and landscape writing.
We had the pleasure to listen to her voice al Pordenonelegge, Pordenone, Italy on 23rd september 2018 at the launch of her first Italian version translated by Giorgia Sensi.
It is possible to chart Jamie's development as a poet through her engagement with various themes. In her collections The Way We Live (1987) and The Queen of Sheba (1994) the reader is alerted to Jamie's status as a 'woman poet' and a 'Scottish poet'. Jamie often expresses her discomfort with such 'tribal' labels, and the feeling of writing in a voice which operates on behalf of a group of people.
Themes of female power and entrapment are found in poems such as 'School Reunion', where women with whom Jamie went to school are celebrating, without irony, the stagnant state of their lives.
Her deep relationship with nature has always been an active concern within her poetry, as well as in her non-fiction: Findings (2005) is a beautifully observed account of the birds, animals and landscapes around her home and elsewhere in Scotland.
Jizzen (1999) further developed her art, sometimes using colloquial Scots English, expressing the personal life and attention to the natural world. The title is an Old Scots word for childbed and the collection implicitly links the births of her own children with the re-birth of the nation, with the opening of the new Scottish Parliament.
The Tree House and Findings clearly share a grand subject: the endless (if threatened) diversity of the natural world and its relationship to humanity. In 'The Whale-watcher' and 'White-sided Dolphins' humans and creatures almost interact, only to keep their ultimate distances.
Findings does indeed pay attention to what surrounded her in Fife and on Scotland's highlands and islands. Unfolding over the course of a year, it captures landscapes and creatures, She travels: to Greenland to see the aurora borealis; to Bergen to visit the whale rooms of the Natural History Museum. If birds were the animating spirit of Findings, in Sightlines it's whales.
Sightlines is a series of essays roughly grouped round the concept of 'the natural'. This is a wide field encompassing such subjects as Aurora, Pathology, the Hvalsalen (the Whale Hall at Bergen Museum). Whales are real, in the world, but they're also half-mythic, and we respond to that. Our relationship with them seems to be the point at which we have our best and worst arguments with the natural world. Industrialised whaling, and the end of it.
Sandro Pecchiari




The Whale-watcher

And when at last the road
gives out, I'll walk –
harsh grass, sea-maws,
lichen-crusted bedrock –

and hole up the cold
summer in some battered
caravan, quartering
the brittle waves

till my eyes evaporate
and I'm willing again
to deal myself in:
having watched them

breach, breathe, and dive
far out in the glare,
like stitches sewn in a rent
almost beyond repair.


Also enjoy the video The Hvalsalen: